State Symbols of the Czech Republic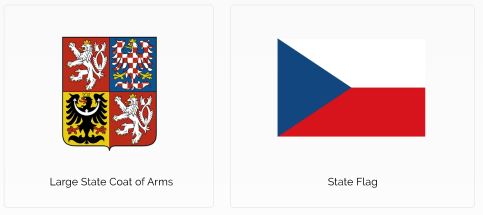 Regions of the Czech Republic: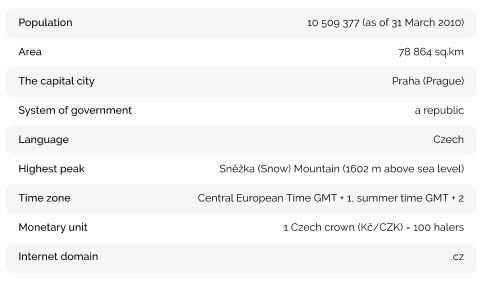 Membership in Organisations
The Czech Republic is a member of: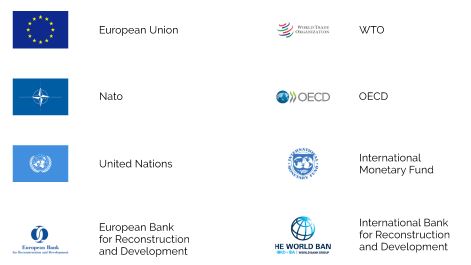 The UNESCO World Heritage List includes the following cities and sites: Prague, Český Krumlov, Kutná Hora, the Litomyšl Chateau, Telč, the Lednice-Valtice area, Zelená Hora – St John of Nepomuk Church, Holašovice, Kroměříž (chateau and gardens), the Holy Trinity Column in Olomouc, the Tugendhat Villa in Brno (designed by architect Ludwig Mies van der Rohe), and St Procopius Basilica and the Jewish Cemetery in Třebíč. For more information, please see www.unesco-czech.cz.
The Czechs are described as a very cultural nation which has contributed to the world a large number of prominent figures. The most significant rulers and heads of state include emperor Charles IV and presidents T. G. Masaryk, Edvard Beneš, and Václav Havel. Names of world renown include Jan Amos Komenský (Comenius) "the Teacher of Nations", scientists Jaroslav Heyrovský (Nobel Prize laureate for chemistry), Otto Wichterle, a Czech chemist who invented contact lenses, and Antonín Holý (professor of honour in medicinal chemistry), who discovered drugs against AIDS. Famous people of culture include composers Bedřich Smetana, Leoš Janáček, Antonín Dvořák and Bohuslav Martinů, writers Franz Kafka, Karel Čapek, Jaroslav Seifert (Nobel Prize laureate), Jaroslav Hašek, Bohumil Hrabal, and Milan Kundera. Winners of the American Academy Award are film directors Miloš Forman (born in former Czechoslovakia), Jiří Menzel, Jan Svěrák, and the singer Markéta Irglová. Painters to be named are František Kupka and Alfons Mucha. Athletes of world renown include Emil Zátopek, Petr Čech, Jaromír Jágr, Dominik Hašek, Pavel Nedvěd, Jan Železný, Kateřina Neumannová, Martina Sáblíková and many others. Petra Kvitová, Martina Navrátilová and Ivan Lendl are also of Czech origin.
The biggest cities of the Czech Republic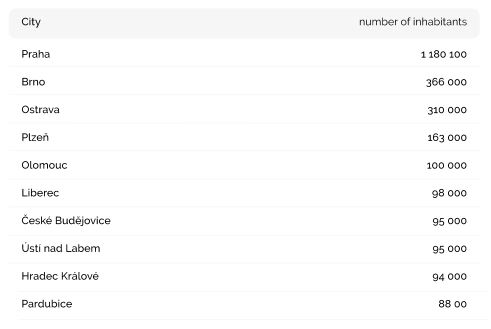 Country dialling code: +420. Details regarding phone numbers are available at the following web site: www.zlatestranky.cz. Licences to operate mobile phone networks in the Czech Republic have been awarded to the following companies: Telefónica O2 Czech Republic, a.s., T-Mobile Czech Republic a.s., and Vodafone Czech Republic a.s.
The most commonly used credit cards in the Czech Republic are: Eurocard/MasterCard, Maestro and Visa.
Other useful information on the Czech Republic is at undefined www.czech.cz .